About
The Hawaii Broadband and Digital Equity Office's (HBDEO) mission is to support and coordinate statewide deployment of high speed internet access (broadband) and works to achieve the goals of digital equity and adoption for all residents of Hawaii. HBDEO's functions include the coordination, implementation, promotion, funding and managing of programs that ensure the equitable distribution of digital technologies and to provide pathways to maximize Hawaii's competitiveness in the digital economy.
Update – July 6, 2021: Governor Ige signs HB1191 HD1 SD1 CD1 into law creating Act 225 (21). This creates the Hawaii Broadband & Digital Equity Office in the Department of Business, Economic Development and Tourism, HRS Chapter 206S.
Update – January 20, 2021: The Digital Equity Declaration is now available on BroadbandHui.org. Show your support by clicking on the Add Your Name button. Also the results of the survey to prioritizing the Objectives and Sub-objectives from the Hawaii Broadband Strategic Plan is also available.
Update – January 13, 2021: The Broadband Hui reformatted the Digital Equity Declaration and is requesting your support by adding your name here. Also, we would like your help in prioritizing the Objectives and the Sub Objectives as stated in the Hawaii Broadband Strategic Plan 2020.
Update – December 11, 2020: The Broadband Hui released the Digital Equity Declaration and is downloadable here.
Update – October 28, 2020: The *NEW* Hawaii Broadband Strategic Plan 2020 is now available for download. You can also read the press release here.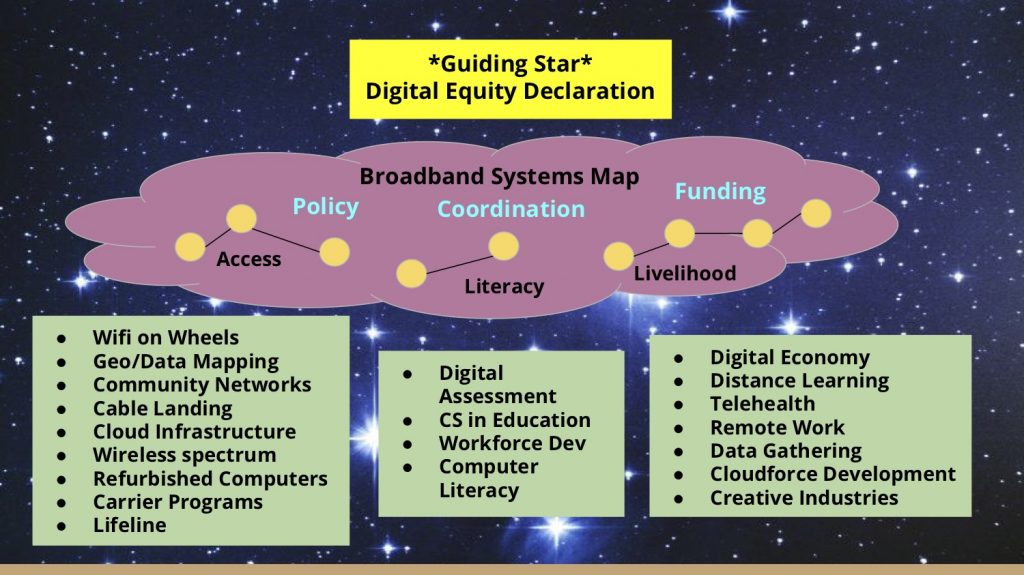 Overview
Taking a statewide, holistic approach to the Hawaii Broadband Initiative (HBI), DBEDT recognizes that broadband touches the entire community to provide the foundation for innovation, economic development, healthcare, education, public safety, entertainment, etc. through the entire continuum of broadband connectivity including:
Transpacific fiber optic cable and carrier neutral fiber landing infrastructure

Terrestrial backhaul to connect subsea cables to data centers and aggregation points on-island

Wireless broadband deployment including 5G small cells

Inter-Island fiber optic connectivity between the Hawaiian Islands

Rural Broadband, Last mile/First mile and Community Networks

Broadband Application Drivers: distance learning, telework, telehealth, big data, smart city, smart grid, machine learning, artificial intelligence, autonomous vehicles, augmented reality, eSports,

and access to government services.
The first step toward establishing key strategic digital infrastructure for HBI involves building carrier neutral cable landing infrastructure on Oahu and the neighbor islands to lower the cost barrier for transpacific fiber optic cables to land in Hawaii, to create a robust broadband network in Hawaii, to extend gigabit broadband to the entire state, rural and urban, and to create an environment in Hawaii for the digital economy to thrive.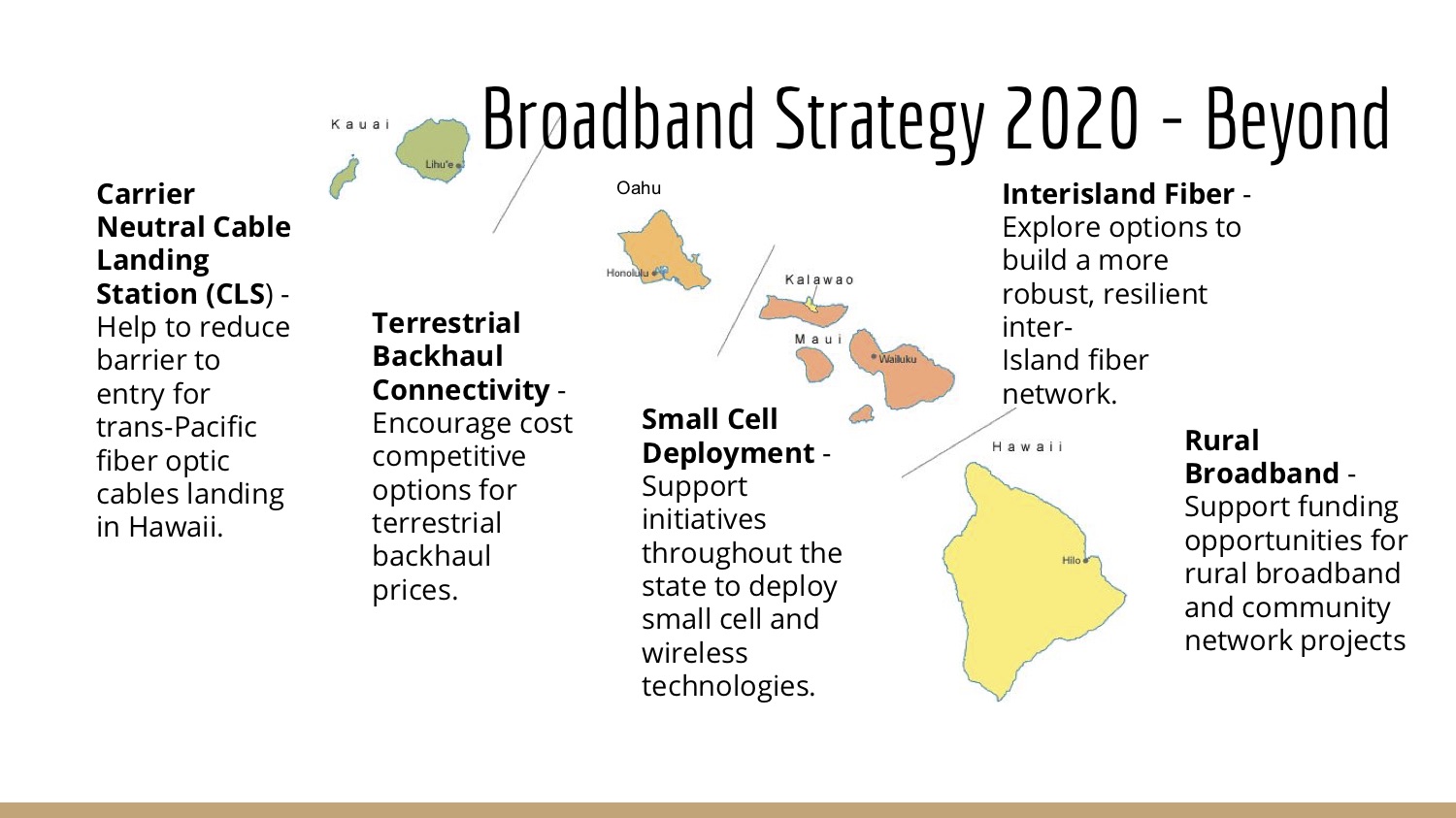 The current situation is that most of the transpacific fiber projects are bypassing Hawaii. These cables are crucial in enabling broadband service in Hawaii and keeping Hawaii connected and competitive in the global marketplace.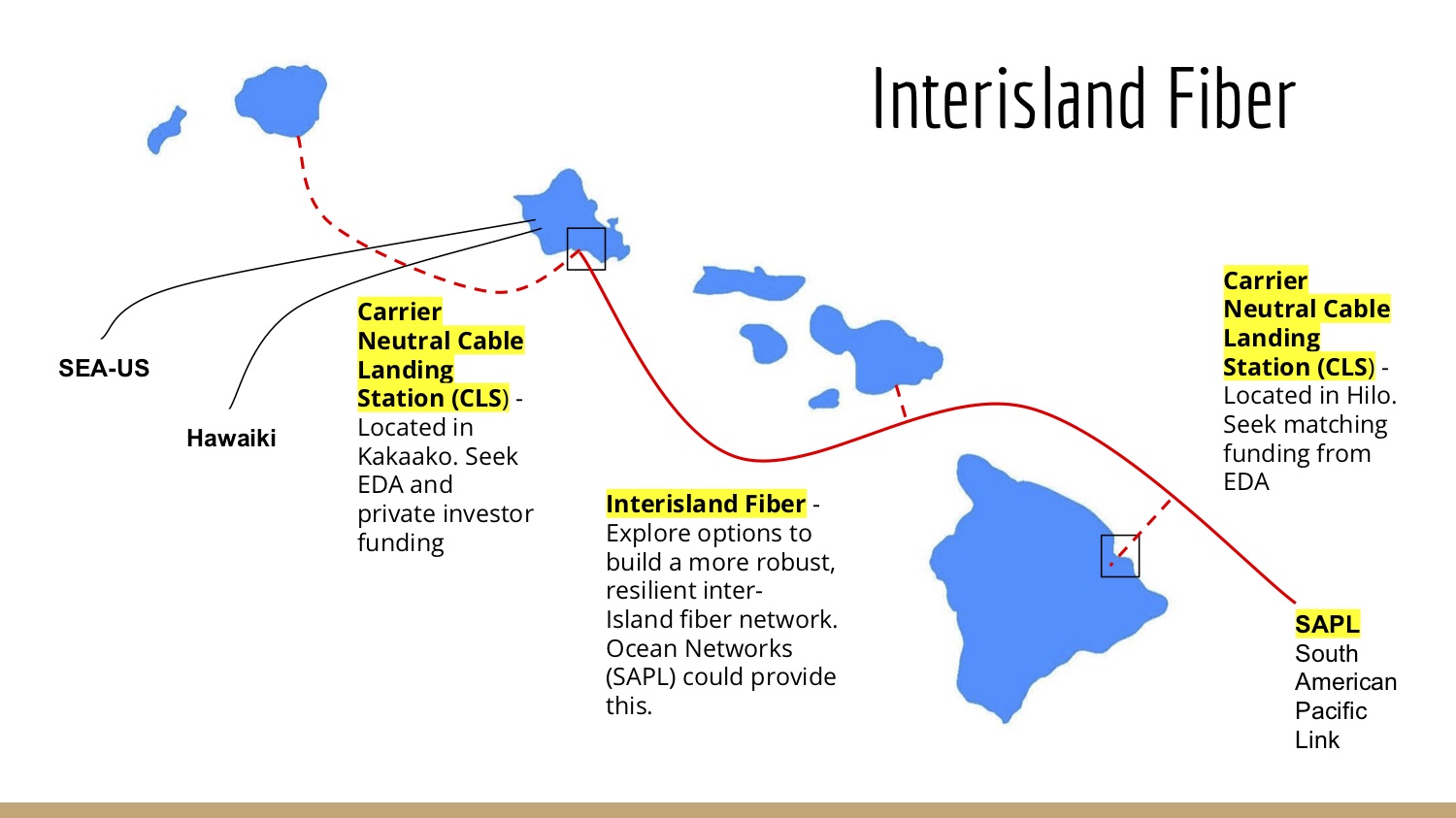 One of the first objectives of the Hawaii Broadband Initiative is to conduct planning, designing, and construction of a transpacific fiber optic cable landing infrastructure, including permitting, surveys, undersea horizontal bores and conduits on land.