Statewide Digital Equity Plan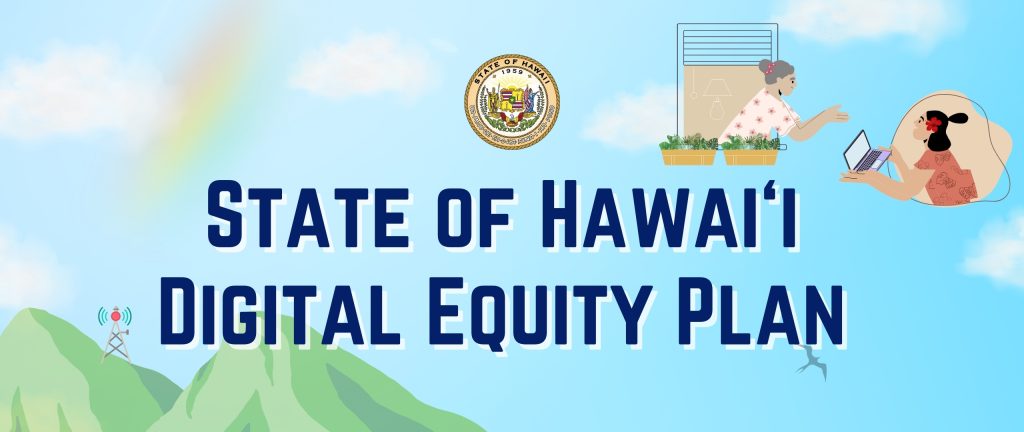 About the State of Hawai'i Digital Equity Plan
The State of Hawai'i's digital equity plan is currently being developed to serve as a roadmap to achieve a baseline of digital equity across the islands over the next five years.
This plan will be developed with the goal of creating the condition in which all individuals and communities have the information technology capacity needed for full participation in our society, democracy, and economy throughout the state of Hawai'i.
---
Digital Equity Plan Timeline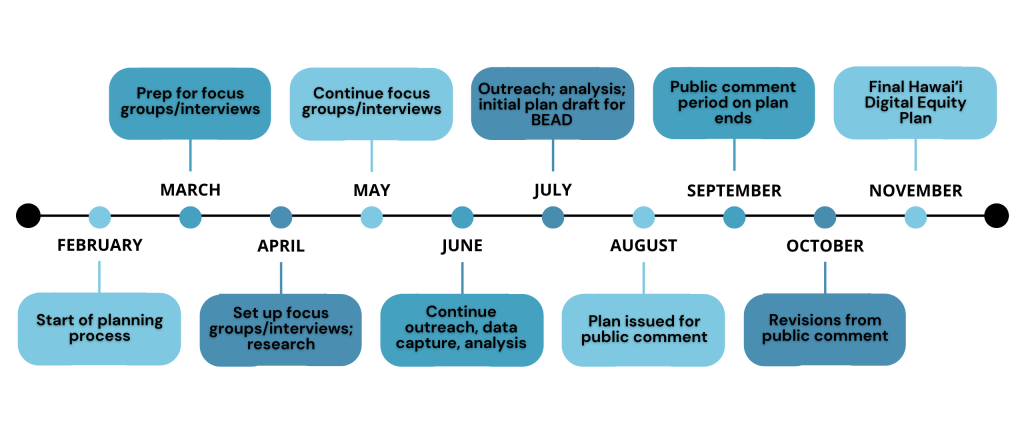 ---
What is Digital Equity?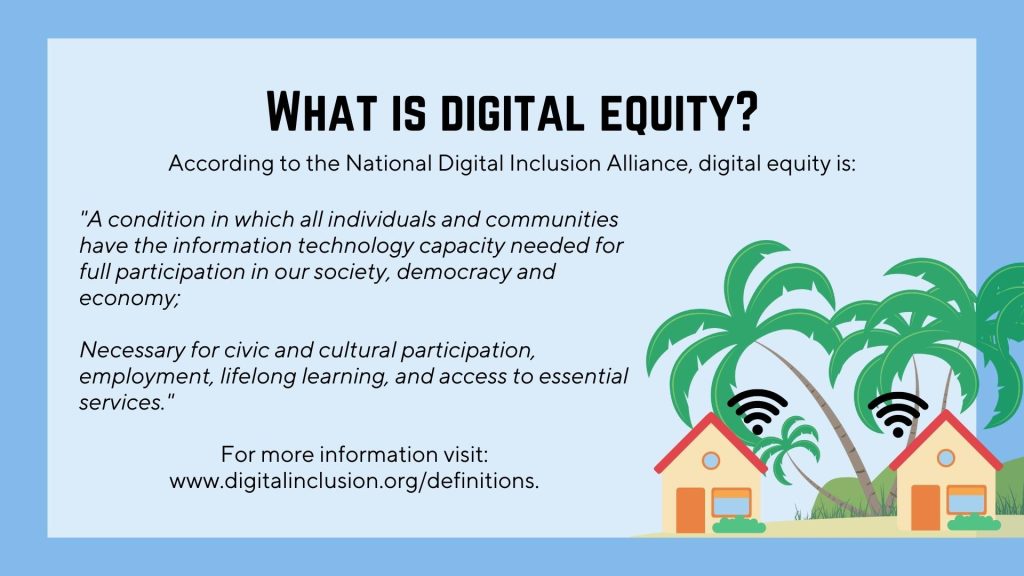 ---
What issues of digital inequality do we face in Hawai'i?
The lack of digital equity has been a pressing community issue in Hawai'i, separating those in rural communities and from socioeconomically disadvantaged circumstances from the rest of modern society. This inequality creates a "digital divide," which is especially exacerbated among our most vulnerable and underserved populations. Some examples of inequity that these communities and individuals face are:
Unreliable or non-existent internet service
Lack of access to technology – such as laptops and computers
Lack of digital literacy skills to navigate the internet
---
Measurable Objectives
The availability and affordability of both fixed and wireless broadband;
The accessibility and inclusivity of online public resources and services;
Digital literacy;
Awareness and use of security and online privacy and cybersecurity; and
The availability and affordability of consumer devices and technical support for those devices
---
Who do I contact for more information?
For more information or if you would like to participate in or host a focus group or survey, please contact us at:

[email protected]

.

---
Why should I participate?
Meaningful conversations and collaboration with individuals, such as yourself, will allow us to evaluate the most effective and impactful use of federal funding to our state and to develop a comprehensive strategic plan to address digital inequality.
---
Where can I get a copy of this digital equity plan once it's complete?
The digital equity plan will be published HERE once finalized, which will be by the end of 2023. For those who participated in our survey, focus groups or meetings, we will be sure to share a copy with you once the plan is final.
---
In the news
---
Resources