Digital Inclusion Week 2021
Digital Inclusion Week
October 4-8, 2021
---
What is Digital Inclusion Week?
Digital Inclusion Week is a nationally recognized campaign to promote digital equity across the country through local events and organizations. The week aims to raise awareness of solutions addressing home internet access, personal devices, and local technology training and support programs.
---
Proclamation
This year, Governor David Ige proclaimed October 4-8 Digital Inclusion Week to be recognized annually in Hawaii, as a time to prioritize digital equity and broadband access.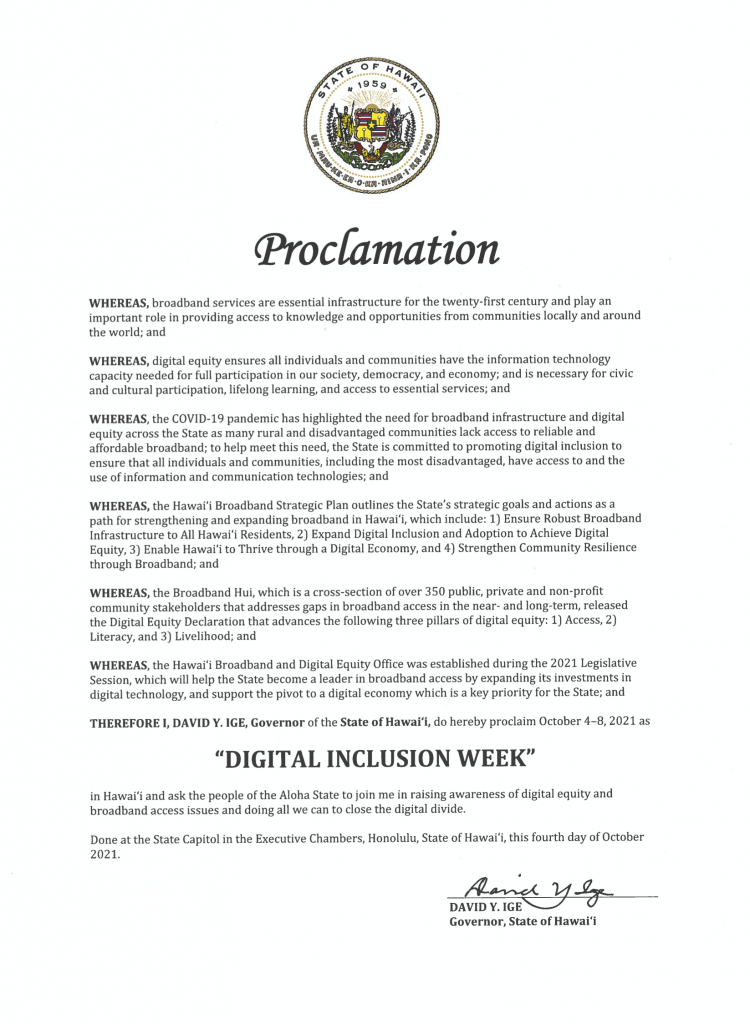 ---
Digital Inclusion Week 2021 Events
Free, In-Person Computer Skills Training
The Workforce Development Council will host a free, in-person basic computer skills class to help participants "survive the internet age." More information can be found at digitalreadyhawaii.org.
Date/Time: Saturday, October 2, 2021 from 1:30pm-4:30pm
Where: Aiea Library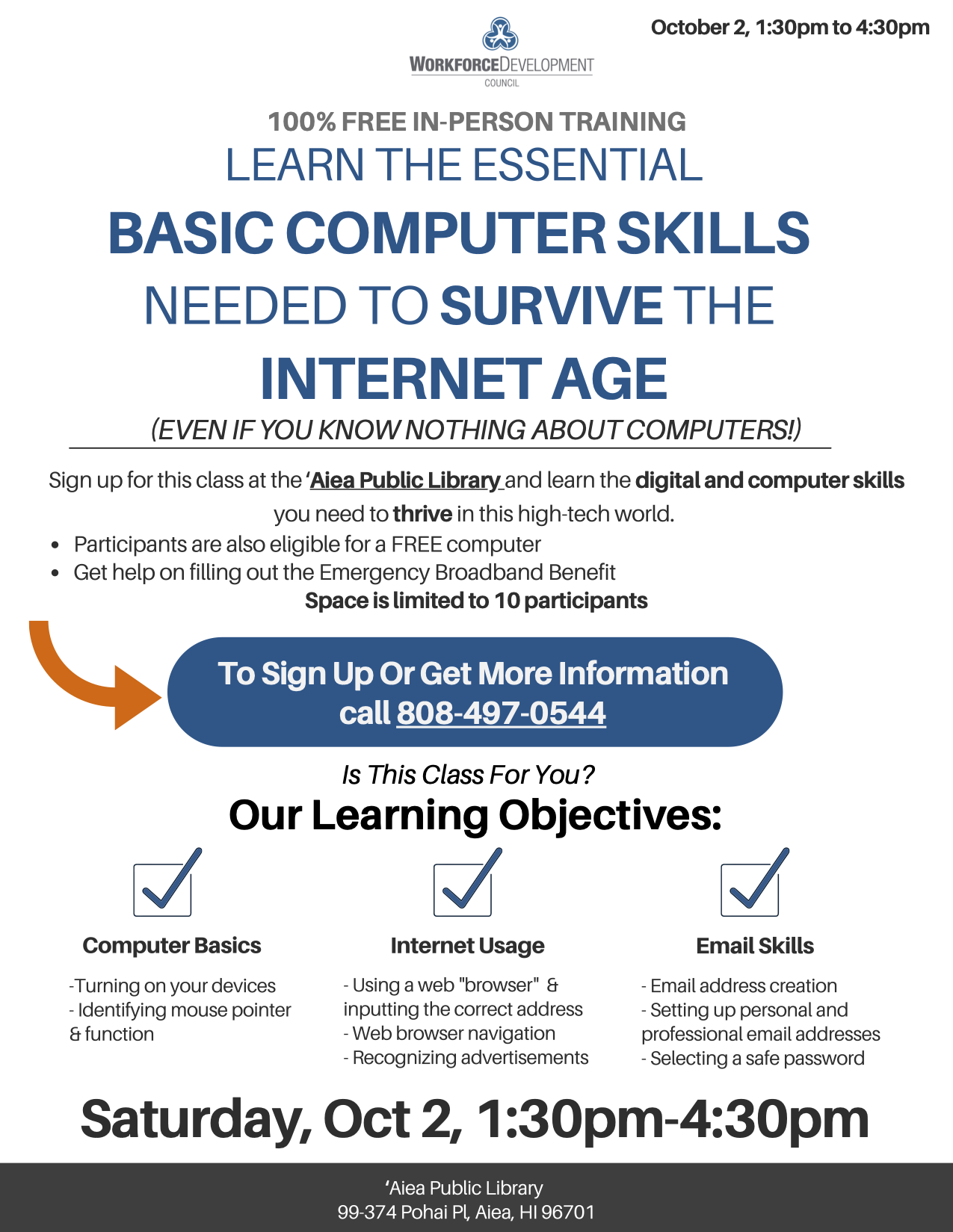 Digital Inclusion: Equity Starts Local Panel
East-West Center's Pacific Islands Development Program & Professional Development Program and the Hawai'i Broadband Hui present "Digital Inclusion: Equity Starts Local Panel," a virtual panel discussion on Zoom, covering what key community stakeholders are doing to achieve digital equity and achieve the goals set forth in the Digital Equity Declaration.
Panelists:
Brad Bennett, 'Auamo Consultant LLC & 'Auamo Collaborative
Kaala Souza, Author, Consultant, Motivational Speaker
Dr. Kelley Withy, UH John A Burns School of Medicine & Area Health Education Center (AHEC)
David Sun-Miyashiro, HawaiiKidsCAN
Moderators:
Burt Lum, Hawai'i Broadband & Digital Equity Office, State of Hawaii, Department of Business, Economic Development and Tourism
Dr. Mary Therese Hattori, Pacific Islands Development Program
Date/Time: Tuesday, October 5, 2021 from 11am-12pm
Where: Zoom (link will be provided following registration)
Register: https://go.hawaii.edu/sLP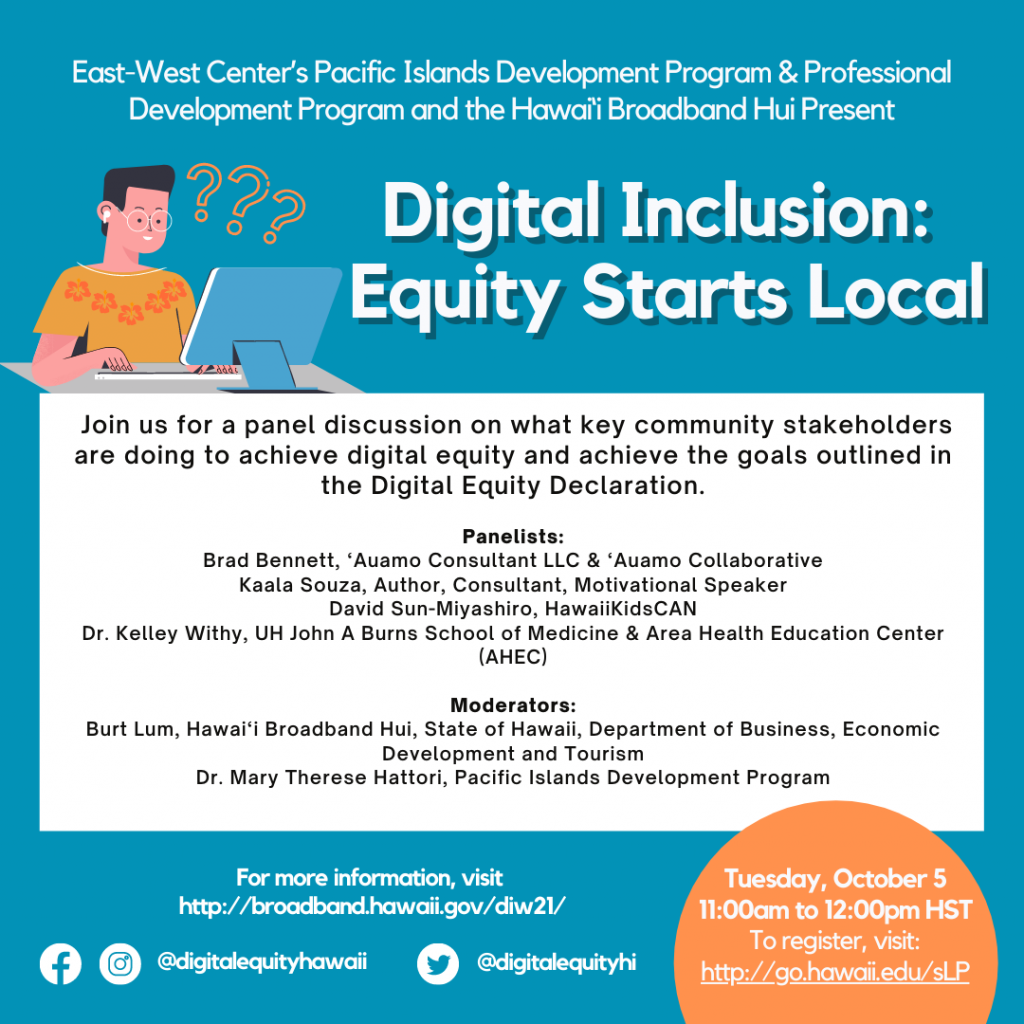 ---
Social Media Toolkit
Download our social media toolkit here.